Welcome to BeachscapeCancun.com®
Beachscape Cancun Kin Ha Villas & Suites
Escape to one of the Cancun's most intimate and charming resorts, Beachscape Cancun Kin Ha Villas & Suites, located just steps from the best beach in Cancun, Mexico. Our one, two and three-bedroom suites are ideal for romantic getaways and family vacations of all sizes.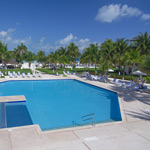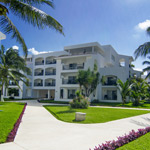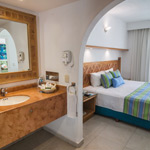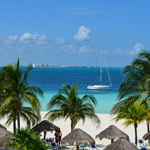 Unlike other massive properties in Cancun's Hotel Zone, Beachscape Kin Ha was designed with guests' peace and relaxation in mind. Our small resort is home to a swimming pool, playground, two excellent restaurants and lush green landscaping, yet we consider our greatest asset to be our beautiful white sand beach – voted best in Cancun by the Discovery Channel.
From our spacious suites to our beachfront location, Beachscape Kin Ha is an unbeatable value in the heart of the Caribbean. Whether you want to snorkel through pristine coral reefs, experience local cuisine and shopping, or simply relax with your family, it's all at your fingertips when you stay at Beachscape Cancun Kin Ha Villas & Suites.
All Inclusive (optional)
Benefits included:

Accommodations as selected
Buffet breakfast in restaurant Terraza Albufera from 07:00 to 12:00 am
Buffet lunch in the restaurant Terraza Albufera at the schedule from 12:30 to 18:00 om
Buffet dinner in restaurant Terraza Albufera at the schedule from 18:00 to 22:00 pm
Snacks at one site restaurant Terraza Albufera, beach and pool area
Unlimited domestic drinks from 11:00 to 23:00 hours every day. Included wine by the glass, Whisky William Lawson's, Brandy Los Reyes, Vodka Koslov, Ginebra Oso Negro, Ron Bacardi Blanco y Galeon, Tequila Canto Alegre, Barrel Beer, sodas, Viñalta Wine and Nacional Coctel.
Playground for children (ages 4-12 from 09:00 to 17:00 hors
Gym
Taxes and tips
Benefits not included:
Room service
International and premium brands beverage
La Palapa Kin Ha Restaurant a la carte
Convenience store
Massage services
Services with charge (calls, medical service, baby sitter
Coffee Terraza
All extra charges, such as beverages by the bottle will be charged on a separate bill at the time of consumption. A la carte Palapa Kin Ha Restaurant not apply in all inclusive plan, 15% off showing bracelet. It is mandatory to wear the bracelet during your stay, in order to provide you a better service in our restaurants and bars. Your meal plan starts with lunch (13:00 hours) after checking in and ends with breakfast (12:00 hours) at check out.